Goal setting has been a foundation of my life for many years. When I listened to Brian Tracy "Thinking Big" (on an audio-cassette tape!) everything changed for me. My big brother, Don, gave me the tapes to listen to and it was revolutionary. It was like someone let me in on the secret that I was missing. Since then I have tried every version of thinking big and goal setting from Blue Sky Thinking to SMART goals and with discipline and persistence mixed in – goal setting really works.
This is the time of year I start thinking about my goals by first assessing what I accomplished from my last set of goals. But last year I struggled. As I reviewed 2016 to set my 2017 goals – I came up empty. 2016 was an amazing year – my best ever in business – we had exceeded all of our goals for the year and I was having trouble defining what was next. I was also tired. I had made an acquisition in 2015 and since that time had been running hard. Our big gains in 2016 came from taking a big risk by buying another business in 2015 and luckily it was paying off.
In the past all of my goals begin with an increase over where we are – something like 'double our profits in 12 months'. But as 2016 wrapped up that sounded exhausting and I kept asking myself 'why?' I didn't have a why this time – why did I want to grow when I was incredibly happy with where we were. I love my work, my staff, my life … why grow? So I went out on a limb and set the biggest BHAG I have ever set – to do the same in 2017.
It was big, it was hairy and incredibly audacious to say I wanted to be the same in 2017.
I struggled with doubt and worried it was going to damage my business to not be actively pursuing growth and instead pursue the same. But it felt right – it felt like what I needed to do.
Now as I begin to reflect on 2017 – my review checklist is pretty short: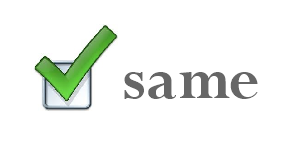 Check – we did it! Actually we grew profits during my year of the same so I guess you could say we exceeded our goal, but a lot more happened than the same.
I am astonished by what I learned and experienced personally. I had to explore how I viewed myself as a person and an entreprenuer during my year of the same. I had purposely taken my foot off the gas and was coasting and at times I felt guilty and slightly embarrassed. Try telling your Mastermind group you just want more of the same … stunned silence and blank looks.
I have spent my entire career trying to grow and to prove myself. I have no idea who I was trying to prove it to, but growth and achievement was how I had set out to do it. So my year of the same challenged my self-perception. I was forced to face some of my personal demons who were unwilling to let me coast. They wanted the hard charging, never satisfied entrepreneur back in charge and if she wasn't available they wanted to convince me that I would fail, that I didn't deserve to coast and it would end in disaster.
One of my favorite books is Daring Greatly by Brene Brown and this quote has guided me all year
The opposite of scarcity is not abundance. It's enough. I'm enough.
My year of the same made me look in the mirror and finally say 'I am enough' and that is a deeper level of fulfillment than I have achieved in the past.
I realized as I coasted that I had tied a tremendous amount of my identity and worth to growing a business. But that is not all of me – I am more than that and I am enough.
My year of the same did not end in tragedy and I did not destroy my business, but most importantly I feel like I saved myself. I am enough.