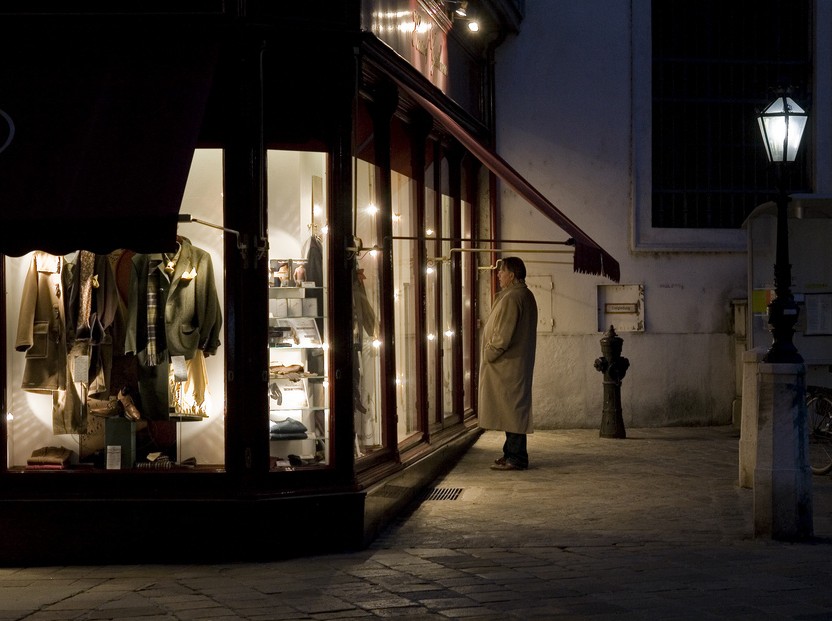 Back in 1998 was the first time I used BizBuySell.com to find a business for sale and I have never stopped perusing the listings on their website.  A large amount of my entrepreneurial education has come from reading the one or two paragraphs describing a business in the listing.  I am shocked when I talk to other business owners at how few have ever looked at a business for sale.  That is like the house next door being for sale and you never care to find out the price – seriously, aren't you just curious? or am I just nosy?
You don't need to be in the market for a business to read the listings.  I think of it like window shopping – you are keeping abreast of the new fashions whether you are ready to buy or not so when the day comes you are prepared with knowledge.
In 2013 Bizbuysell.com reported that over 7,000 small businesses were sold in the USA. About 700 businesses for sale are added to their online marketplace every week.  The good news is you don't have to read all the listings, but instead can set up 'Biz Alerts' for the ones of interest to you and receive a daily or weekly summary by email.  To create 'Biz Alerts' you have to register for a free account on BizBuySell which only requires your name and email address.
If you are an entrepreneur, I think you should have at least two alerts set up.   First, create one for all the businesses for sale in your local area.  Since I live in a small town, I set this one for my county, by selecting my State and County on the BizBuySell home page: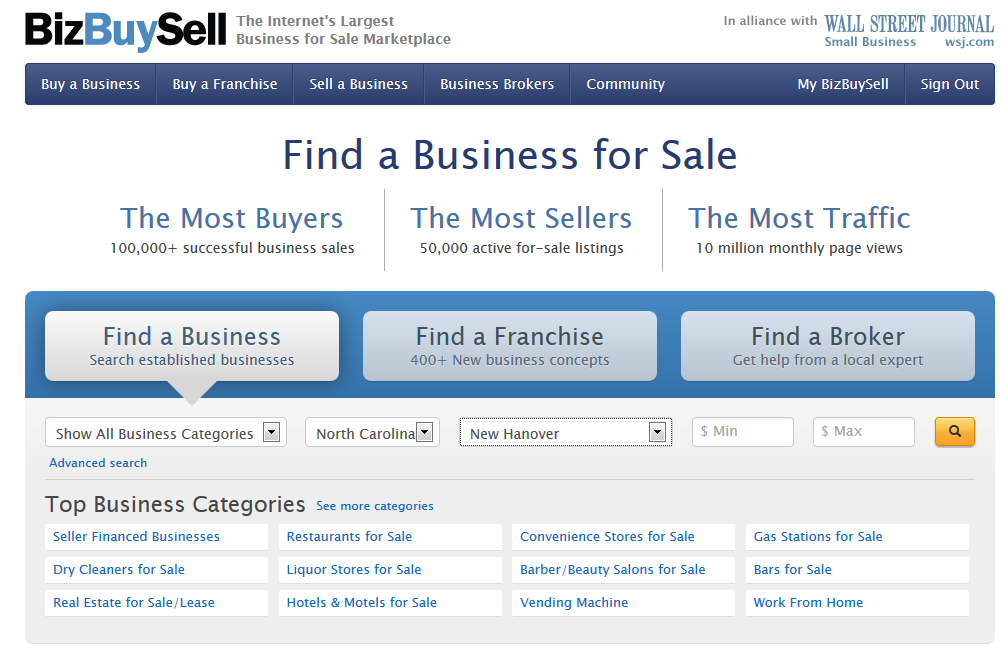 Click on the search button and when the search results appear you will notice a 'Get BizAlert' button at the top, click on that to save the search and have it emailed to you either Daily or Weekly, the search results should look something like this: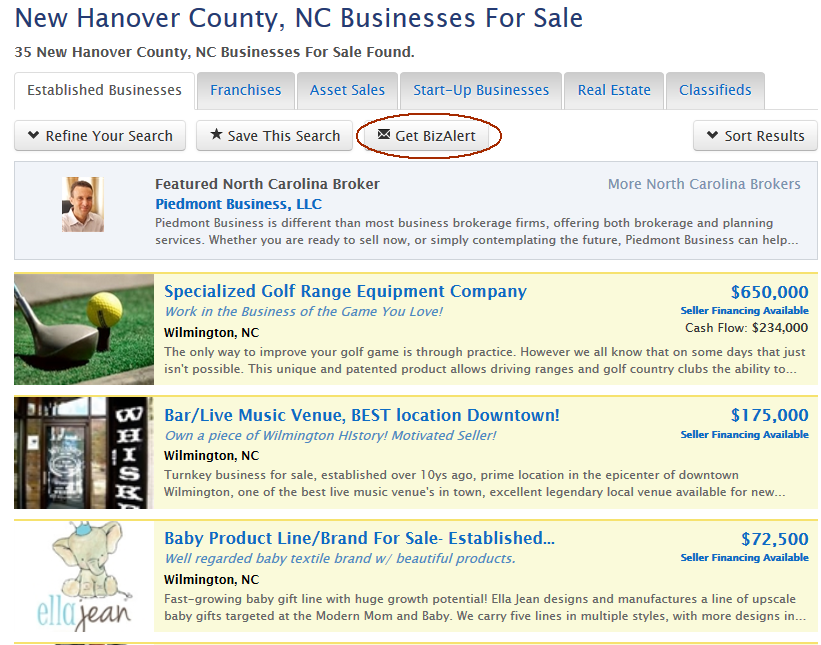 Here is a sample Biz Alert email: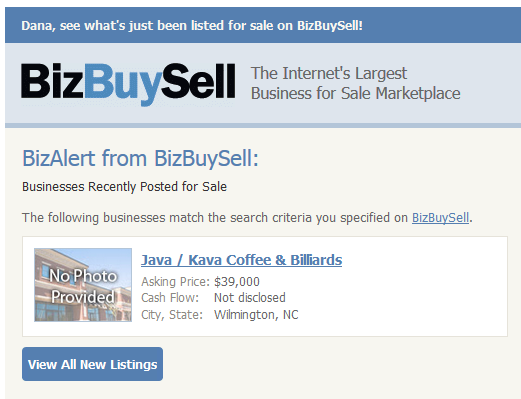 The second alert to create is for your specific industry or 'category' nationwide.   Use the Advanced Search screen to set up this search – under Business Location select 'Search ALL of the USA'.  Under Business Criteria – select the Category – you can use the Ctrl button to select more than one category.  Here is my nationwide search for all of the categories under Internet Businesses: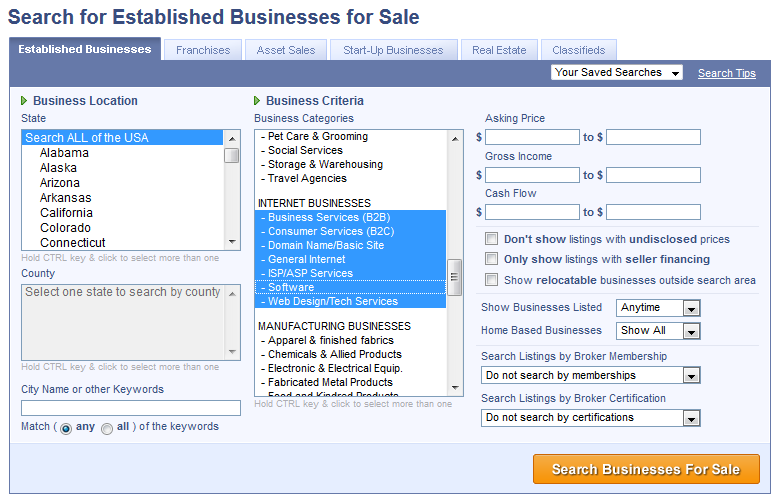 I receive the alerts daily on the Internet Category and can simply click on any listing and read the details, this is what the email looks like: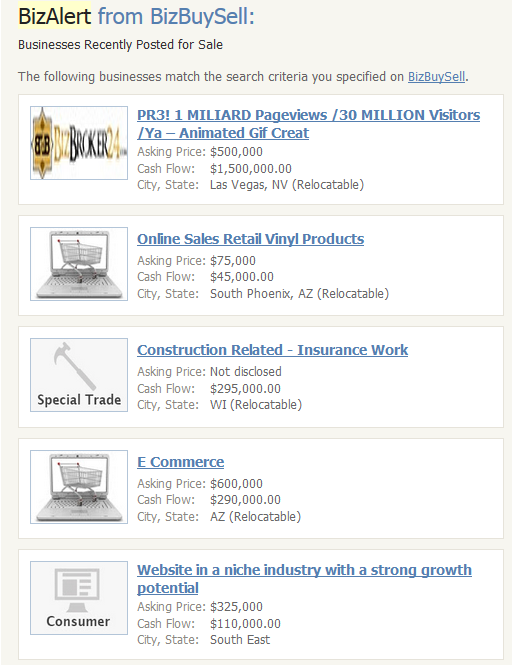 If you can't find a category that fits you or your interests, then you can select a keyword.  Unfortunately the keyword search only applies to the title in the listing.
So what information can you garner from window shopping.  The business listing is written by a business broker and/or the business owner where they describe the strengths of the business and the opportunities for growth and expansion.  Reading a fellow business owner's description of their business, why it is successful and how they would grow is like industry/success CliffsNotes.
Lets pretend we have a sign/engraving shop.  Sadly, sign shops do not have their own category and it looks like some are listed under the Retail category and some under Manufacturing, so we will need to use the keyword search which will return some other businesses we are not interested in like 'consignment' or 'web design', but we can just skip over them.  Here is the Advanced Search using keywords sign engraving: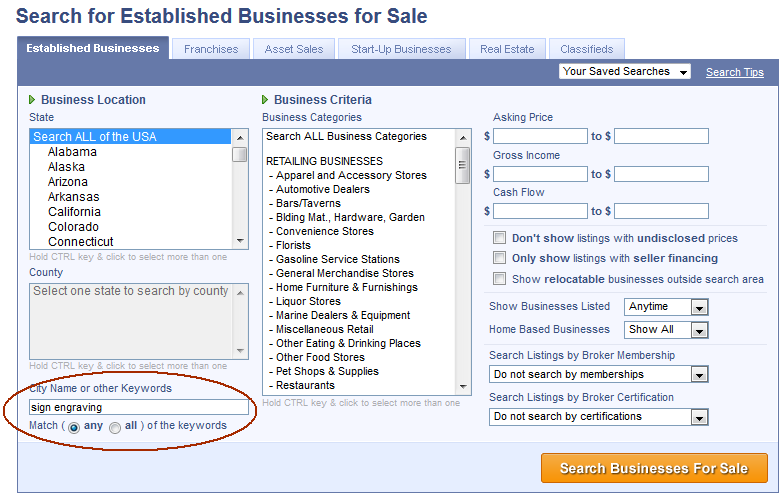 I just read thru several sign and engraving shop listings and pulled out these nuggets of information about the industry:
All of my sales come from organic hits on my website
client list includes commercial and retail stores; real estate and construction firms; individual and commercial boats and boat dealers; individual trucks and truck fleets; and state and local municipalities.
customer base is mainly from the recession proof medical industry
I use scrap granite from counter fabricators which I get for next to nothing
limited competition for its ADA raised letter and braille signs in the area. Owner does site evaluations and recommends signage for the facility managers of hospitals, clinics, doctor's offices and schools in the surrounding area.
we are ADA-compliant sign specialists  and make standard ADA signs that are sold to wholesale corporate customers.
Real Estate Sign Post business -successful customer base of real estate agents. new owner could greatly increase the business by adding a new website that had an online ordering system for installing and removing the signs
Company dominates the local search engines to generate new sales every week
Other major customers include several local trucking fleets, truck leasing firms
Expand into car and truck wraps.
Most of our work is for national accounts which mass produce signage for large companies & franchises and want this business to pull the permits, install the signs and provide service/repair in the central region
Manufacturing channel letters and any form of vinyl, wood or sheet metal on its own lazier router is a side that can be expanded on
company specializes in all types of Channel Letters, High and Low Voltage Neon, Rope Neon, Monuments, Solar Sign Systems, Pole Signs, Promotional Signs, Acrylic Signs
the company will be leasing a new Bending Machine which will reduce labor and increase productivity which could possibly double sales again
Digital large format printing could be added to the product mix and greatly increase the business.
Over the years all these tidbits of information from the business listings add up to give you a competitive edge. You constantly have new ideas of customers to target or products to offer and keep up to date with things like organic search results driving new customer acquisition. You will also find out if a local competitor is for sale and the listing shows their gross sales and net profit (remember, I am your nosy neighbor).
The beauty of the Biz Alerts is that it is a set and forget process.  You will receive the emails and all you need to do is scan the information to get stimulated with ideas of how other people are growing businesses like yours.  The free education you are receiving compounds over the years and you begin understanding business valuations and can spot trends developing in your industry.
So back to my sign maker who is also thinking about retiring in the next few years.  Reading other sign shops for sale helps you start to think of your business as an asset – a thing of beauty that has value – not the business that drives you crazy.  You start thinking about how to describe your business and all of the unique selling points of your shop.  You meet the new owner of the competitor that listed a few months ago and secretly wonder if he really paid that much – if he did, is it possible you could sell your shop one day? Then you see a listing for a website that is getting orders for something you already make – you had never thought of selling online and expanding nationwide.  You entertain the idea of buying the website business and growing your business by acquisition.  Oh, the possibilities…
Really, it's a total paradigm shift.  Spend a few minutes once a week to read the Biz Alerts email and you will change the way you think about your business.