A recent survey conducted by bizbuysell.com of 1,500 people who are interested in buying or selling a business has a few insights worth noting.
There is always a strong divergence of opinion and sentiment between buyers and sellers which is what makes the negotiation process a slippery slope of expectations.  For example, the survey showed that 61% of buyers felt businesses currently for sale are generally overvalued while only 29% of sellers think businesses are overvalued.
Of the buyers surveyed,  49% want to get seller financing when they purchase a business and very possibly can only make the transaction happen with seller financing.  However, among the for-sale-by-owner listings on BizBuySell.com, only 25% offer seller financing on their listing.
"Even as lending begins to free up, seller financing remains a valuable tool for buyers to fund their business purchases.  Although one in four sellers offer seller financing initially, it's likely many of them will end up offering seller financing as part of the negotiations in order to meet the buyers' needs and complete their transactions."  Curtis Kroeker, bizbuysell.com
The last item to note is the average sale price as a multiple of cash flow has inched up in 2013.  In the second quarter of 2013 the average multiple of cash flow reached 2.23.  The average multiple trends a little higher than a real multiple in the marketplace since the closing price of a business will include any additional things added after the multiple of cash flow, like inventory on hand or fixtures and equipment.  I think the multiple on the actual cash flow of the business is still hovering right around 2.00 and then add any inventory or other hard assets.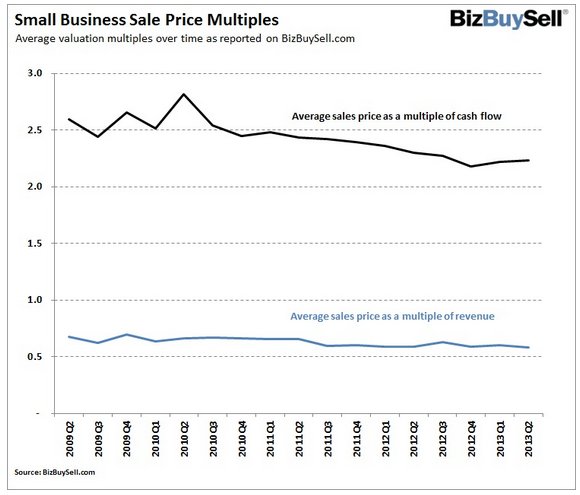 Want more details from bizbuysell.com, visit their media releases page or you can 'read' their poorly designed infographic.