Creating your own website is easy!  WordPress, Content Management System, is free and easy to use. With a huge community of developers, tons of online resources from videos to tutorials to guide you through any rough spots – WordPress is a great choice for creating and managing your business or personal website.  Lets start with the basics of getting a site set up.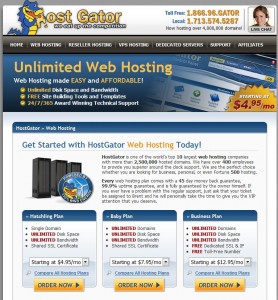 I recommend Hostgator for your hosting. I have found their customer service via live support and their extensive video tutorials to be first rate.  If you want to create just one website then sign up for their Hatchling Hosting for $7-9 per month.   When you sign up for hosting you will be asked if you want a new domain name or if you are transferring a domain you already own.  If you have any questions while signing up then just click on their Live Support Chat button and ask, but it is a pretty straight forward process.  Enter "44ideascoupon" upon checkout at Hostgator and get $9.94 off.   (Coupon codes will not apply to domain names or any service which is not a hosting account.)
After you complete your registration, Hostgator will send you an email with information about how to log into your cPanel.  Click on the link and use the name and password they sent to you to enter your cPanel which will give you access to the settings on your hosting account.  Scroll down and look for the "Software / Services" area:

Click on the smiley face marked "Fantastico DeLuxe" to install WordPress.  Once Fantastico DeLuxe opens you will be need to select "WordPress" from the left side menu and answer the questions.
As I mentioned Hostgator has terrific Video Tutorials which explain setting up your WordPress site:
Video Tutorial Logging into your cPanel