The Google Map that dominates local search results should have the full attention of every business owner in a local market.  If you search for "plumber wilmington nc" you see something like this: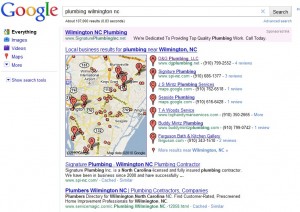 The map takes up most of the search results and sometimes only one or two organic search results will show without the searcher having to scroll down the screen.  Every business owner first of all needs to claim their Google Place business listing.  If you don't claim it then Google will determine what category your business should be listed in.  Even if you don't have a website, your business may appear in the Google Map since the listings are derived from other business databases including the Yellow Pages.
Once you claim your listing and completely update your information, you need to decide what categories to list for your business.  This is an extremely important step that can dramatically increase the views of your business in the Google Map results.
Use this tool at Blumentals to look up Google Categories. There is a good short video at the bottom of the page that explains the importance of categories.  Just type in one word about your business and you will see the categories that might apply to your business.  Try every word that you think is associated with your business and pick the categories that apply.  Then go back to your Google Place page and log in to edit your business page and add the categories that apply.
After you have added the categories that were suggested by the Blumenthals tool then add some other specialty categories that are the additional areas you would like to be found for.  For example, this plumber added Kitchen Remodeling as a category and gets this search result in the Wilmington NC area: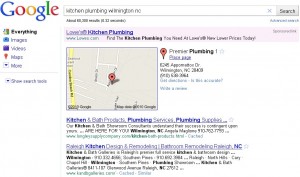 Now Google gives a Map result if you search for "kitchen plumbing wilmington NC" and now he is the only business returned on the map for that search.  In a market that is not very competitive this will work most of the time.  You only want to do this for keywords that really make sense for your business and don't overload this with categories.  However, this is a great way to expand the views of your Google Place page and the Map with your specialties.
Filling out your Google Place profile completely and uploading pictures, videos and coupons will help the ranking of your Google Place page on the map against your competitors who have not even claimed their listing.
If you do nothing else online for your business, claim your Google Place page and update your categories, you will be glad you did.